Since January 2017, crews have been constructing the Harbor Point Bridge and the Central Avenue roadway from the bridge to the southern half of the Aliceanna Street intersection.
Work to date:
Completion of footing, columns, and cap of Pier 2. Pier 2 is the pier closest to Lancaster Street.
Completion of bridge abutment B, located at the northern end of the bridge at Harbor East.
Installation of bridge abutment A cofferdam. Abutment A is located at the southern end of the bridge at Harbor Point.
Bridge Abutments and Piers Rendering 1
Bridge Abutments and Piers Rendering 2
Additionally, the Harbor Point Bridge substructure is 50% complete and duct bank installation has begun. Duct banks are groups of conduits used to protect electrical cables.
Please be aware of the following continuous lane closures:
Central Avenue between Lancaster Street and Aliceanna Street
Lancaster Street between S. Exeter Street and S. Eden Street
Aliceanna Street between Central Avenue and Eden Street is closed to eastbound traffic. The road will be open to westbound traffic only through summer 2018.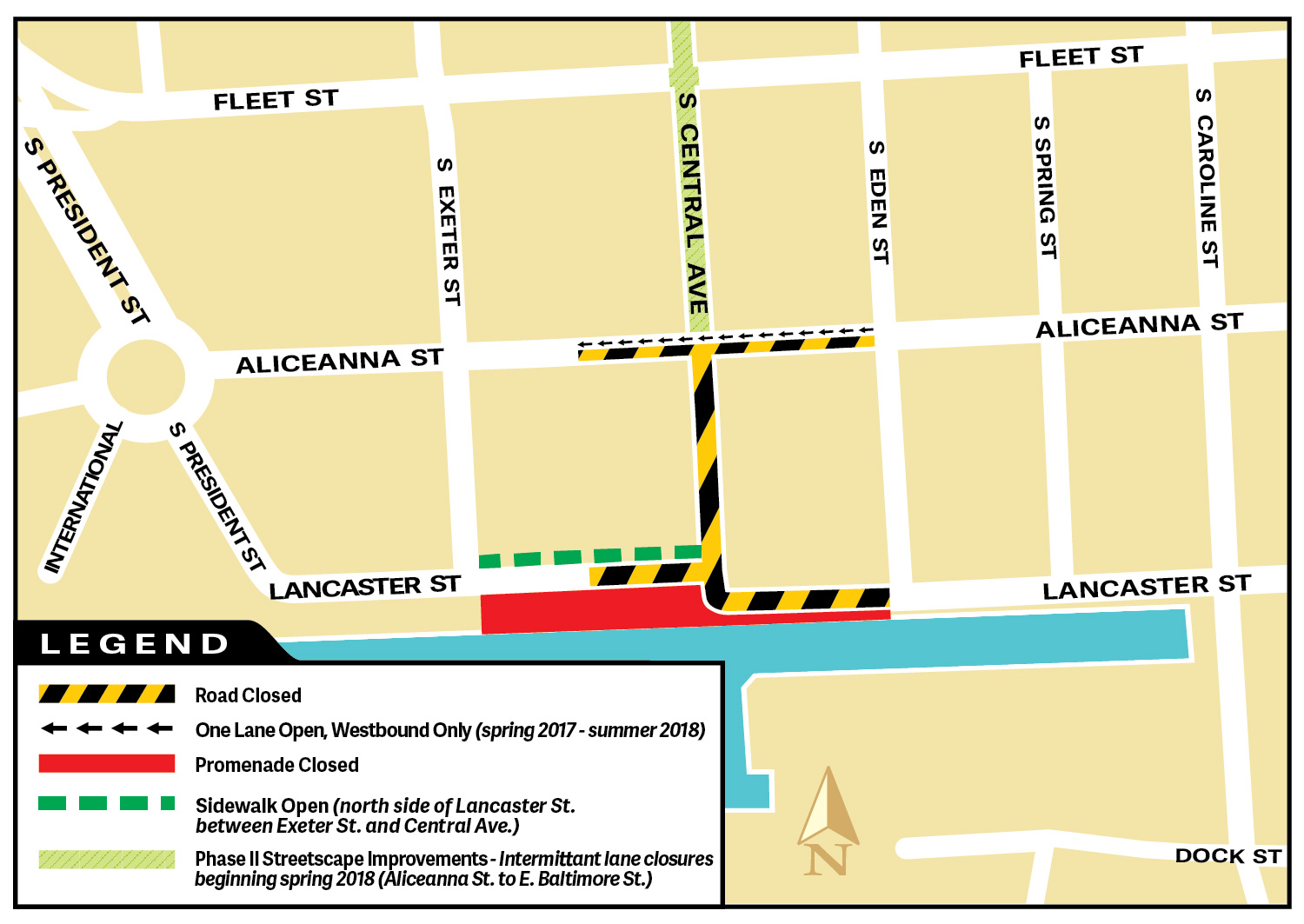 Additionally, the Promenade between S. Exeter Street and S. Eden Street is closed to pedestrian and bicycle traffic.
Though some of the streets are closed, please note that all of the businesses in the area remain open and accessible.
Scheduled Work
Upcoming work through fall 2017:
Completion of Harbor Point substructure elements
Continuation of utility installations within Phase 1
Normal work hours are mainly daytime hours Monday-Saturday.
Construction Impacts
Pile driving activities are taking place Monday through Saturday during normal working hours. This work may produce a higher-than-usual level of noise. In addition, dewatering pumps used to keep water levels low inside bridge features may run 24-hours-a-day. Thank you for your patience.
Work is subject to change due to weather conditions and other factors. Please plan ahead and allow additional time to get to your destination. Directional signs are posted to help motorists, pedestrians and cyclists navigate through the area.
Project Update April 27, 2017